Rear light positions explained
There is often confusion about parts fitment when we describe something as 'left inner rear light' or 'right outer rear light.
When looking at the back of a car, the 'inner' lights are normally attached to the tailgate or bootlid, and the 'outer' rear lights are fixed to the main body of the car.
So, lights number 1 and 4 are 'outer' lights, and lights number 2 and 3 are inner lights.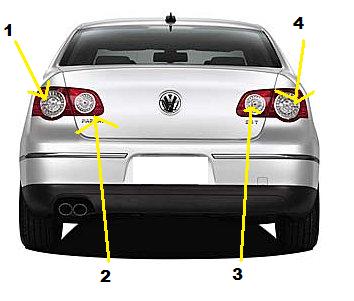 (please note, that depending on if the car is 'left hand drive' or 'right hand drive', rear lights can often have either foglights or reverse lights only on one side, we can check this for you very easily)